Department, city, state
Position: Patrol | Type: Entry
As a Lincoln Police Officer, you will be exposed to a wide variety of experiences and have countless opportunities for professional growth. Unlike most departments our size, we subscribe to a generalist policing philosophy. This means we give our officers the training and responsibility to fully investigate the cases they're dispatched to rather than handing most of them off to an investigative unit. Policing that way adds an extra challenge to the job, but it also builds well-rounded officers and allows you to hone your skills on patrol so you're ready to hit the ground running when opportunities for advancement come along.
Employee Representation
Lincoln Police Officers are represented by the Lincoln Police Union.
Uniforms and Equipment
Provided at no cost to the employee.
Salary
The current officer pay range is from $68,296/year up to $96,539/year. The current contract provides for a 3% raise in August 2024. In addition, employees are paid at the rate of time and one-half for all overtime hours. A minimum of two hours of overtime is provided when an employee is called in off-duty, unless it is a regular day off or a vacation day, then a minimum of four hours of overtime pay is granted.
Lateral Entry
On the recommendation of the chief of police, applicants with more than one (1) year of continuous, full time law enforcement experience may be approved to begin employment at a higher pay grade. This recommendation will be based on the applicant's years of experience as a certified law enforcement officer, the applicant's current base salary and the state which has issued the applicant's law enforcement certification.
Educational Pay
An employee will receive $300 for an Associate Degree and $750 for a bachelor's degree annually. An employee may also be reimbursed up to $1,300 for approved college courses per calendar year.
Bilingual Pay
If an officer is able to demonstrate proficiency to interpret conversations in other eligible languages, they may receive bilingual pay of $100 per month.
Longevity Pay
An employee will receive an additional $1,050 annually beginning with the eighth year of service. This longevity pay will increase at the completion of 10, 15, 20, 25 and 30 years of service with the top end longevity pay at $4,800 annually. Longevity will increase in 2024.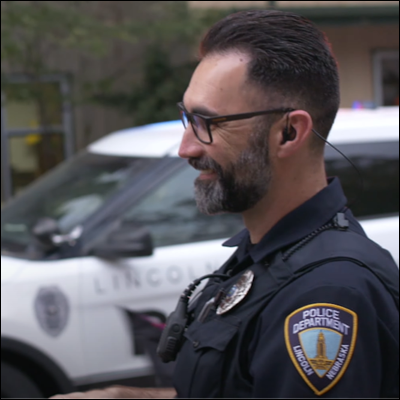 Uniform Cleaning
Officers receive $35/month allowance for the cleaning of uniforms.
Body Armor
Officers are reimbursed up to $800 for the purchase of protective body armor once every five years. The body armor is the property of the individual officer after one year of service.
Vacation
Officers earn vacation leave annually as follows: after successful completion of the first six months of employment – at the factored hourly equivalent of forty hours for the second six months of service. After the first year of service, 88 hours per year. After five years, 128 hours per year. After ten years, 144 hours per year. After 15 years, 168 hours per year. After 20 years, 200 hours per year. After 25 years, 208 hours per year.
Holidays
Officers may be paid for seven holidays each year, or they may elect to accumulate up to 82 hours in a holiday bank. This time may then be taken as time off during the year. The city will provide 42 additional non-cumulative personal holiday hours each fiscal year.
Compensatory Time Bank
In lieu of payment for overtime hours worked, officers may request to take compensatory time. If request is approved, one and one-half (1 ½) hours of compensatory time shall be credited for each overtime hour worked not to exceed a total of eighty (80) hours in their time bank.
Sick Leave
Officers earn eight hours of sick leave for each full month of service. Sick leave is earned but cannot be taken during the first six months of employment.
Age: 21 and over

Education: High School Graduate or G.E.D. equivalent

Experience: None

Candidates must meet such physical requirements, including minimum vision requirements, as established by the City; and have no felony convictions. Candidates will need to meet NLETC admission requirements in order to be hired. See this website for additional information:

Possession of a valid State of Nebraska driver's license when operating a vehicle is necessary to the satisfactory performance of assigned duties. Our hiring process information packet can be found here: ++https://www.lincoln.ne.gov/files/sharedassets/public/police/hiringguide.pdf++ ++(Download PDF reader)++